Mentoring in the Field and Lab
My love of research developed when I was a student assistant at Skidmore College. I had the opportunity to participate in an NSF funded summer research internship, and I have never looked back. I love having the chance to recreate that experience for my students as I think that the opportunity to participate in hands on research programs can reach students in a way that is hard, if not impossible, to recreate in a classroom setting. My work is designed to engage students and create opportunities for genuine independent research at the undergraduate and graduate level. Throughout my career, students have been involved in every aspect of my research program, including collecting samples in the field, running physiological assays in the lab, cleaning and analyzing data, and drafting papers for publication.
Many students start working with me as a summer intern and then stay on during the academic year to learn the lab techniques needed to process samples that were collected the previous summer. I have trained students in a wide range of lab techniques, including molecular sexing and paternity analysis, ELISAs for hormone measurement, immune assays, pcr/qpcr, microbiome and diet metabarcoding pipelines, and color characterization by spectrophotometer, among others. I encourage students to act as full collaborators on these projects and there are many opportunities for motivated students to carve out their own independent questions using the data we assemble.
Formalized Mentorship Program for Undergraduates
Since 2015 I have worked with Maren Vitousek and, later, with graduate students Jenny Uehling and Jenn Houtz to formalize a mentorship training experience for students involved in the tree swallow project. Our goal is to create a comprehensive training program that recruits students early in their undergraduate degree and guides them through an introduction to the entire research process paired with direct mentorship and professionalization. This includes the type of field and lab training described above, but also includes regular student focused meetings where we constructively evaluate journal articles, convene panels on graduate or professional school advice, run workshops for developing a CV or resume, give small workshops on data analysis and coding, and discuss justice, equity, diversity, and inclusion initiatives and how they apply to academia, among other topics. Ultimately, we hope that this intentional programming makes the training program more valuable for our students.
In our current NSF grant, we built in this foundation to form the Stress Research Experience for Student Scholars: A Research-Intensive Career Development Program for Diverse Scholars. Together with Dan Ardia at Franklin & Marshall College, we have recruited a cohort of 6-8 students each summer to participate in teh program. The program is designed to support students with identities underrrepresented in the biological sciences who are considering a graduate degree in biology, but who are early in their career and may have limited research exposure. Students participate in a paid nine-week summer research opportunityt that includes regularly seminars and discussions about both research and career development. Following field research, students are invited to continue weekly meetings through the year and to develop indepedent research projects. We have partnered with the Smith lab at Cornell to conduct pre, during, and post experience surveys to evaluate the effectiveness of our program on helping students attain their education and career goals.
Graduate Student Mentoring
In the Vitousek Lab, I am heavily involved in graduate student mentoring and training. Many of our students work on the tree swallow system and I work as a facilitator and collaborator on all of these projects. Currently, I am contributing to the following graduate student projects:
Tom Ryan: Committee member. Social interactions at the nest box between adults, nestlings, and visitors.
Monique Pipkin: Committee member. Variation in signal coloration and social interactions.
Alicia Brunner: Feather corticosterone in black throated blue warblers.
I also contributed advising for several recently completed PhD projects:
Recent Undergraduate Projects
Throughout my research career I have worked with many students who participated in field or lab research and then went on to develop independent research projects for credit or as a thesis project during the academic year. Below is a sample of recent projects carried out by undergraduate students at Cornell University.
---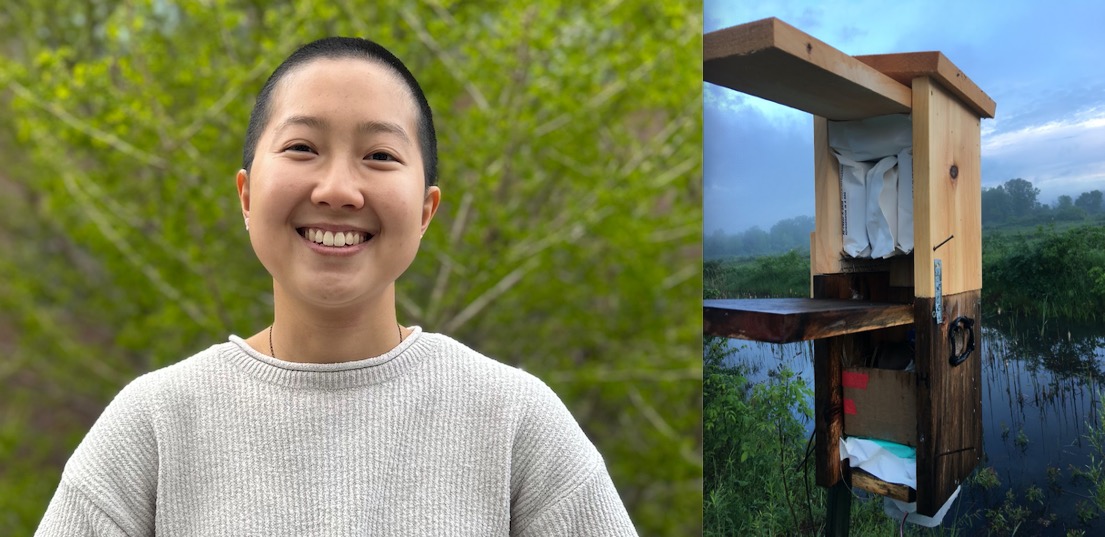 Audrey Su worked as a field assistant in the summer of 2022 and returned as a field crew leader in the summer of 2023. In her senior year at Cornell, Audrey is completing an honors thesis using experimental tree swallow data that she helped collect. She will examine how tree swallow females change their incubation behavior during experimentally simulated cold snaps and after experimental dosing with corticosterone. We know that the response to cold snaps is critical for success and our previous work has shown that because tree swallows are breeding earlier as a consequence of climate change, they are more likely to encounter early season cold snaps when nestlings are vulnerable. Audrey's project is ambitious and includes a huge amount of field data coupled with bench work to measure hormones and data science approaches to process and summarize continuous temperature records in the egg cup of each nest along with ambient temperatures.
---
Gracey Brouillard worked as a field assistant in the summer of 2022 and is currently conducting an honors thesis using field data that she helped collect. Gracey will examine the abundance of nest parasites, particularly blowflies (Protocalliphora), in tree swallow nests that did or did not receive experimental cooling. Because tree swallows use nest boxes to breed, parasites can be a major challenge and later season nests are often overrun by several different types of parasites. Gracey will dissect and meticulously count the number and size of parasitic blowflies and ask whether cooling reduces parasite number as well as whether parasite number has measurable effects on the tree swallows.
---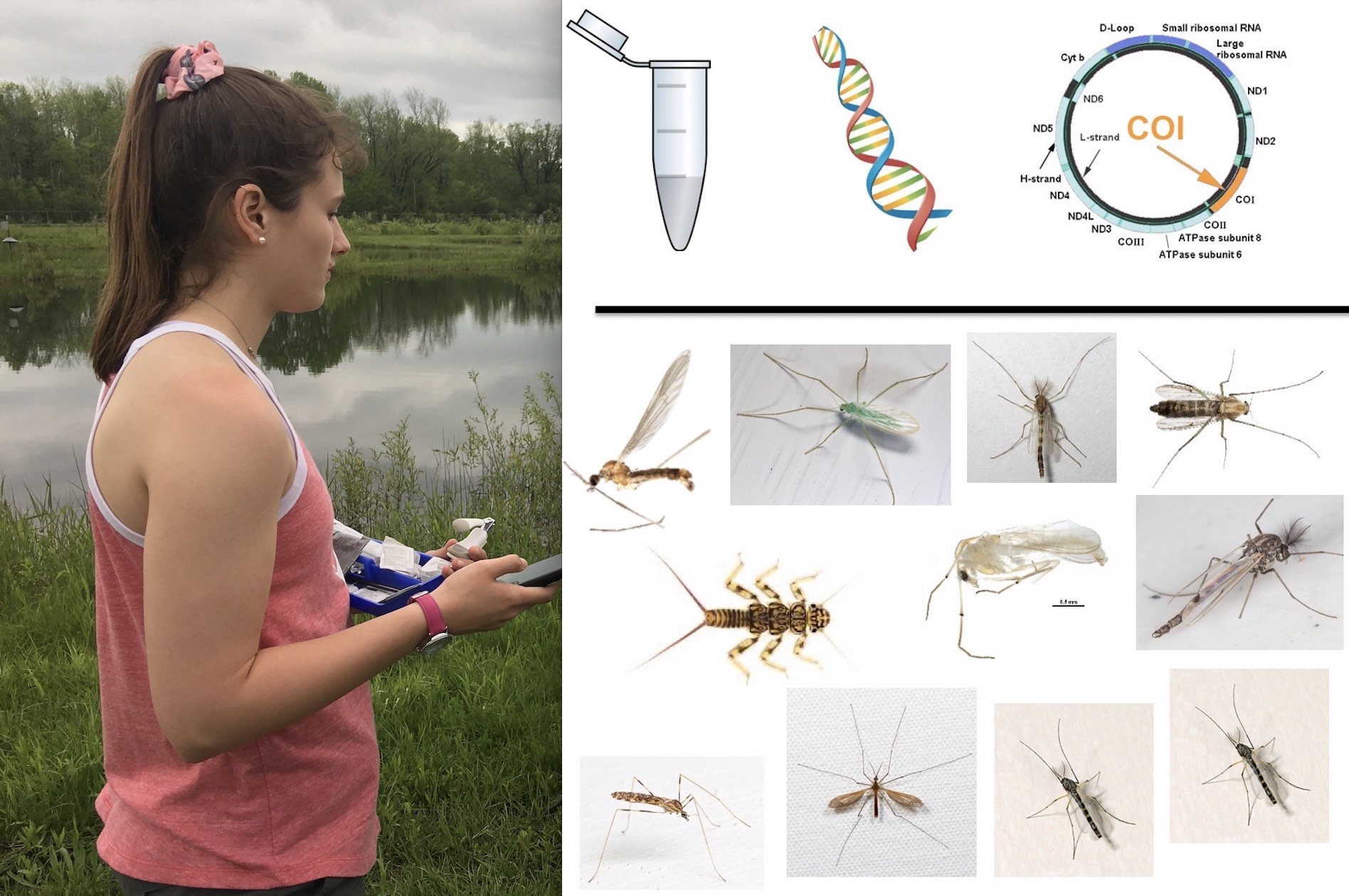 Paige Becker worked on the tree swallow summer team in 2019. COVID-19 stopped her from getting back in the field in 2020, but she was able to continue research with training in R and work in the lab on DNA extractions. Paige has developed a project working with me and Jenny Uehling using fecal samples collected from nestling tree swallows over the past few years to examine trade-offs in diet. We have developed a wetlab and bioinformatic pipeline to use fecal samples for DNA metabarcoding. Next generation sequence data is compared to the barcode of life database to give us an extraordinarily detailed picture of exactly what insects our birds are eating. Previous work suggests that aquatic insects are particularly important for nestling development and Paige is hoping to use diet data to look at how and when parents prioritize feeding the highest quality food items to their nestlings versus saving them for themselves. Paige is a co-author on a paper currently in revision at Molecular Ecology and she is starting graduate work.
---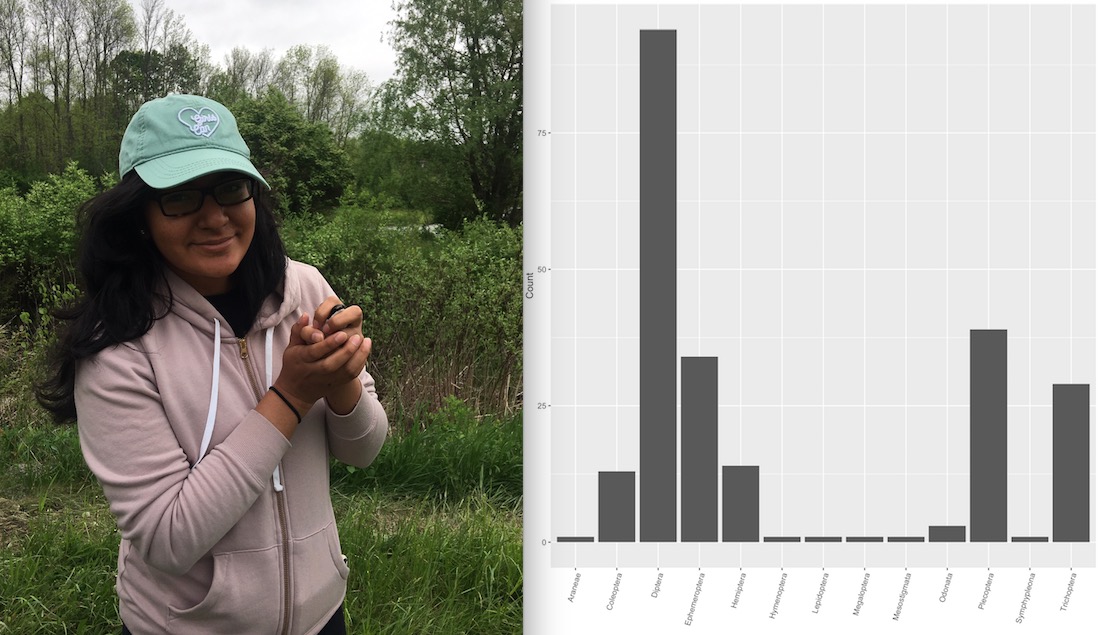 Raquel Castromonte worked as a field assistant for the summer of 2019 and continued as an undergraduate researcher in the Vitousek Lab. As a McNair scholar, Raquel spent summer 2020 working on enhancing her R skills and performing an extensive literature review on the composition of the tree swallow diet. She is currently pursuing a research project on the composition of tree swallow diet and foraging behaviors using fecal sample data and nesting locations from the 2019 and 2020 field seasons. Previous studies (1, 2) suggest that aquatic insects have higher levels of polyunsaturated fatty acids, which help increase chick performance and breeding success. Raquel's project focuses on identifying patterns of habitat composition and its influences on the quality of adult tree swallow diet in Ithaca, NY in the hopes of identifying habitat types that improve tree swallow performance.
---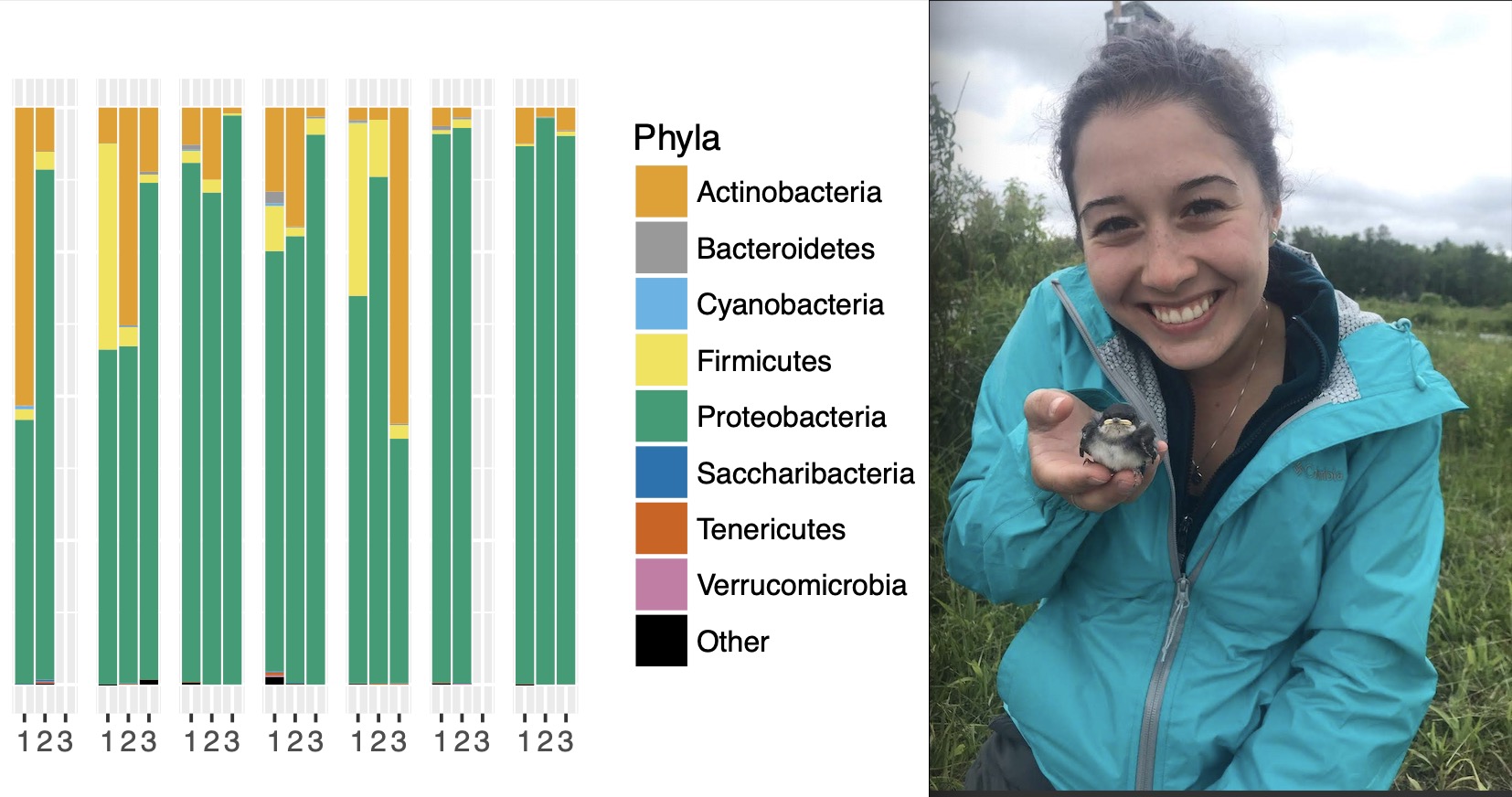 Bella Somoza worked on the tree swallow summer crew in 2019 and planned to come back for more field work before COVID-19 changed our plans. Bella changed plans to spend the summer working through tutorials in R and Qiime2 so that she could pursue a research project this year based on microbiome data. Bella's project is focused on characterizing the development of the microbiome in nestling tree swallows using a set of fecal samples that Jenny Uehling and Jenn Houtz collected in the summer of 2020. Those nestlings were sampled every three days from 5 to 15 days old. In addition to describing the process of development, Bella will ask whether differences in microbiome development are related to any of the other nestlings measures that we have, such as mass and corticosterone response, that predict nestling survival and recruitment.
---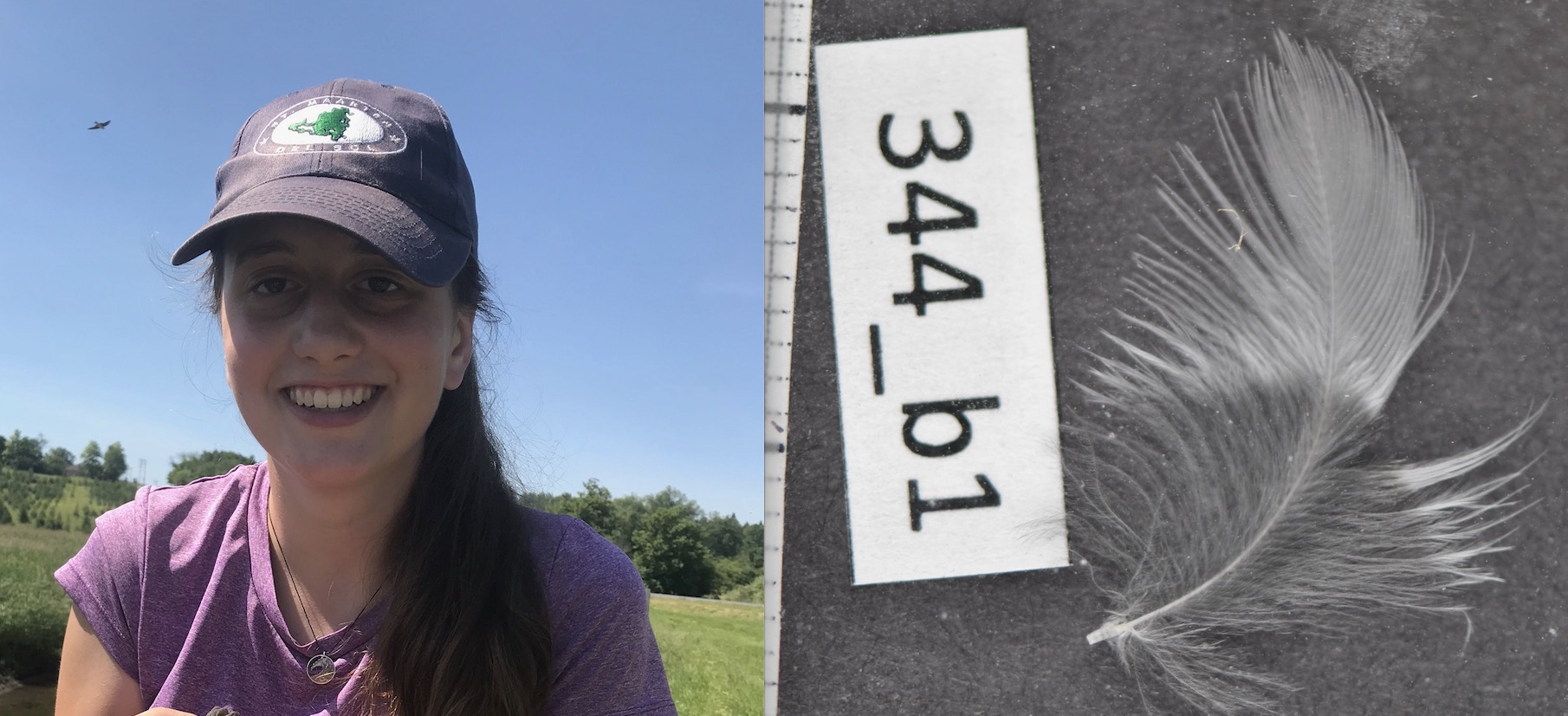 Brianna Johnson was a summer research intern on the tree swallow project. After the field season, she conducted independent research during the academic year using samples that she helped to collect. Her project focused on measuring the density of feather barbs from nestling tree swallows to address questions about trad-offs between rapid development and feather quality. The project was inspired by a recent paper demonstrating this trade-off in a comparative study across many species. We are curious if the same trade-off can be seen within a species with an especially long period in the nest and where nest predation is relatively low. Brianna's project also involved cross fostering nestlings at each nest so that we can separate the degree to which genetics vs. environmental conditions contribute to difference in feather quality. Bri is a co-author on our recent article in the journal Ornithology and Bri started a PhD in microbiology at Stanford.
---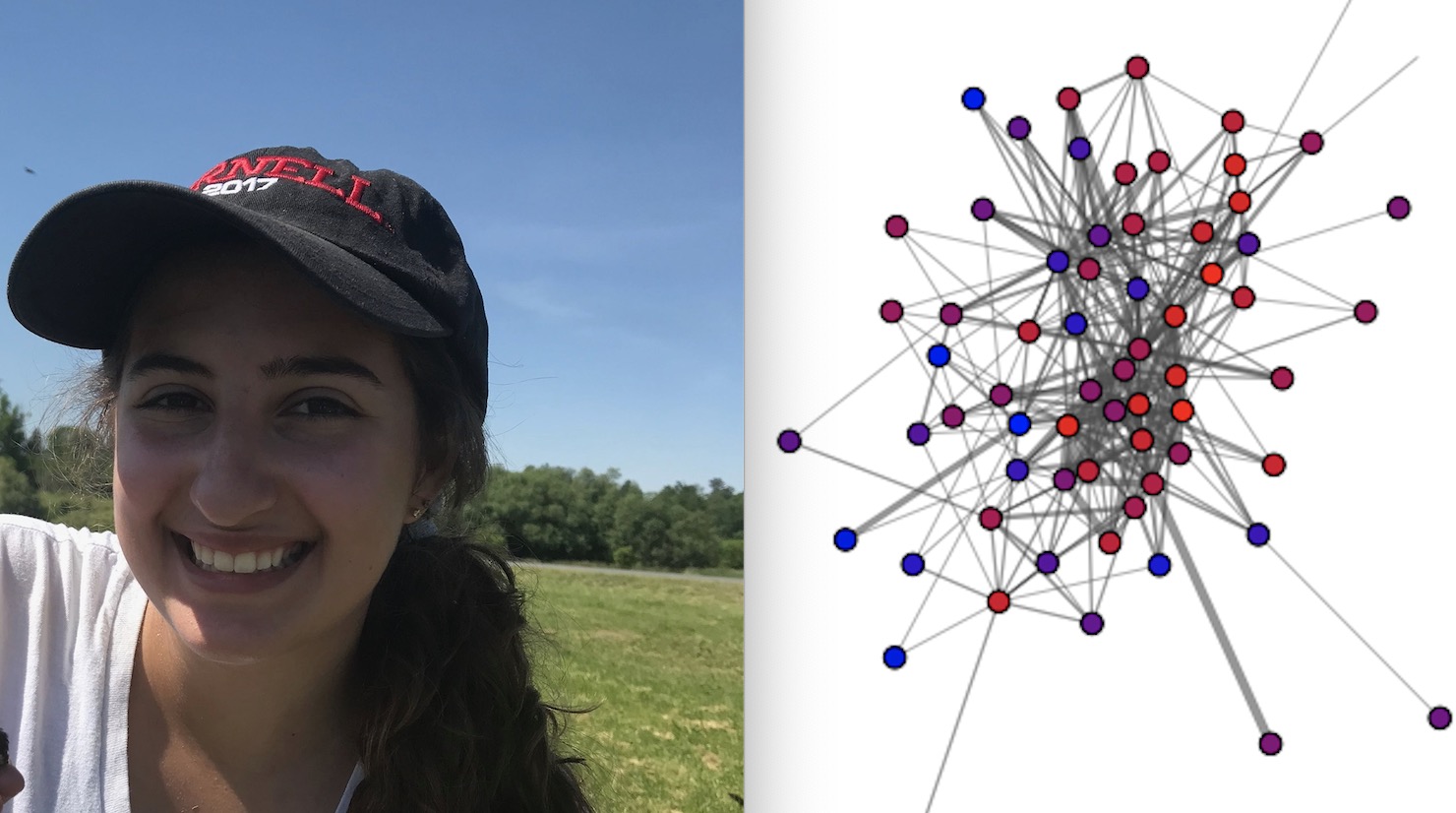 Allison Anker was a summer intern and continued on during the academic year doing independent research. She developed a project watching and scoring behavior from videos of tree swallow nest boxes that she helped record the in the field the previous summer. We had previously found that tree swallows make frequent visits to other nest boxes in the population using an RFID sensor network. The sensor network doesn't give us much information about what actually happend during those interactions. Allison's project was focused on identifying and scoring behavior at those interactions to help interpret the larger RFID dataset. She also scored parental provisioning behavior and nestling squabbles at the box entrance to get a better understanding of how to interpret RFID data from nestlings suggesting that nestlings may compete to sit in the nest box entrance. Allison found that the nestling at the entrance when parents arrived with food was the one who got fed nearly 100% of the time. Allison is a co-author on a recent paper we published in the journal Ornithology.
---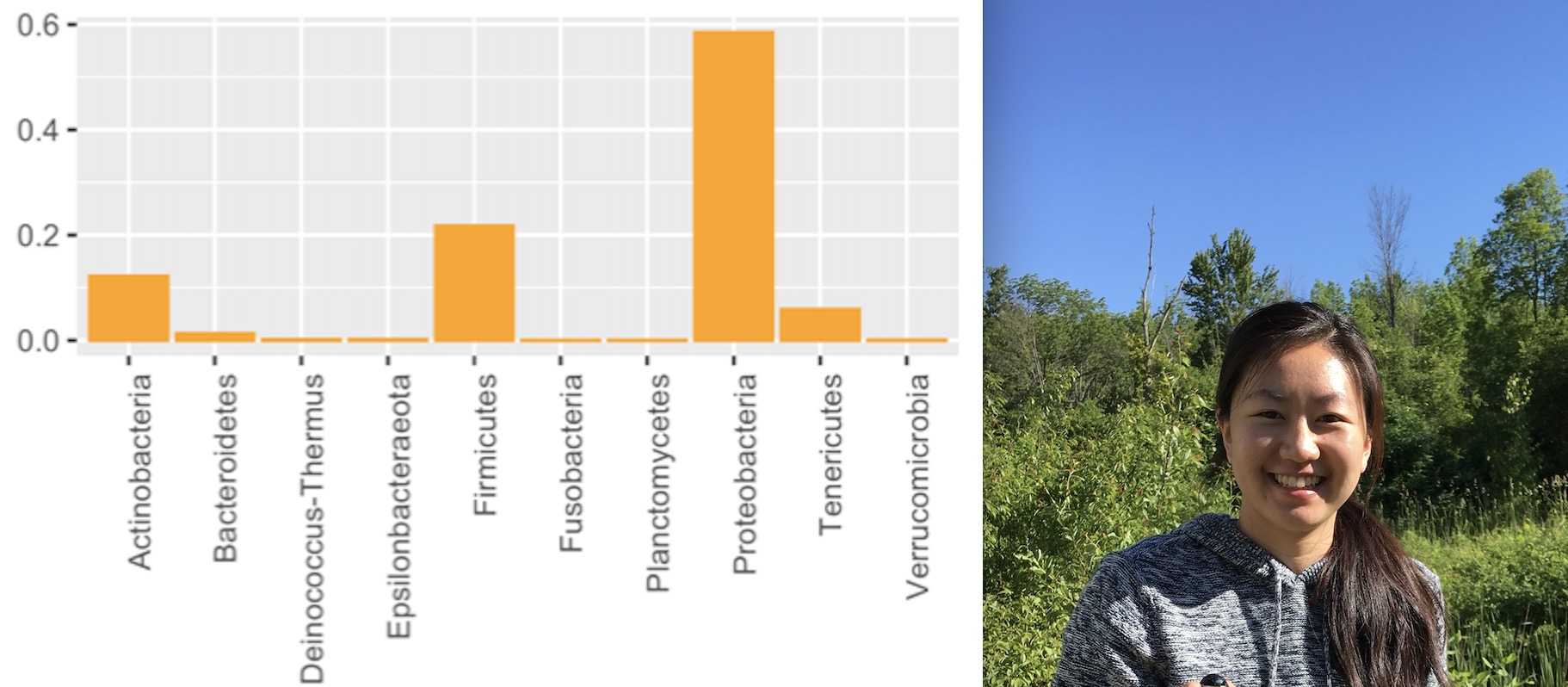 Danica Lee worked on the tree swallow project as a summer intern and then stayed in the lab to work on a variety of different projects over the next few years. She initially did a lot of work on extracting and preparing cloacal swab samples for sequencing to characterize the tree swallow internal microbiome. Danica presented work on relationships between social interactions, coloration, and microbiome composition at the CURB symposium in 2019. Danica went on to work on developing bacteria killing assays to measure immune competence in tree swallows with Jenn Houtz and in Galapagos finches with Sabrina McNew.
---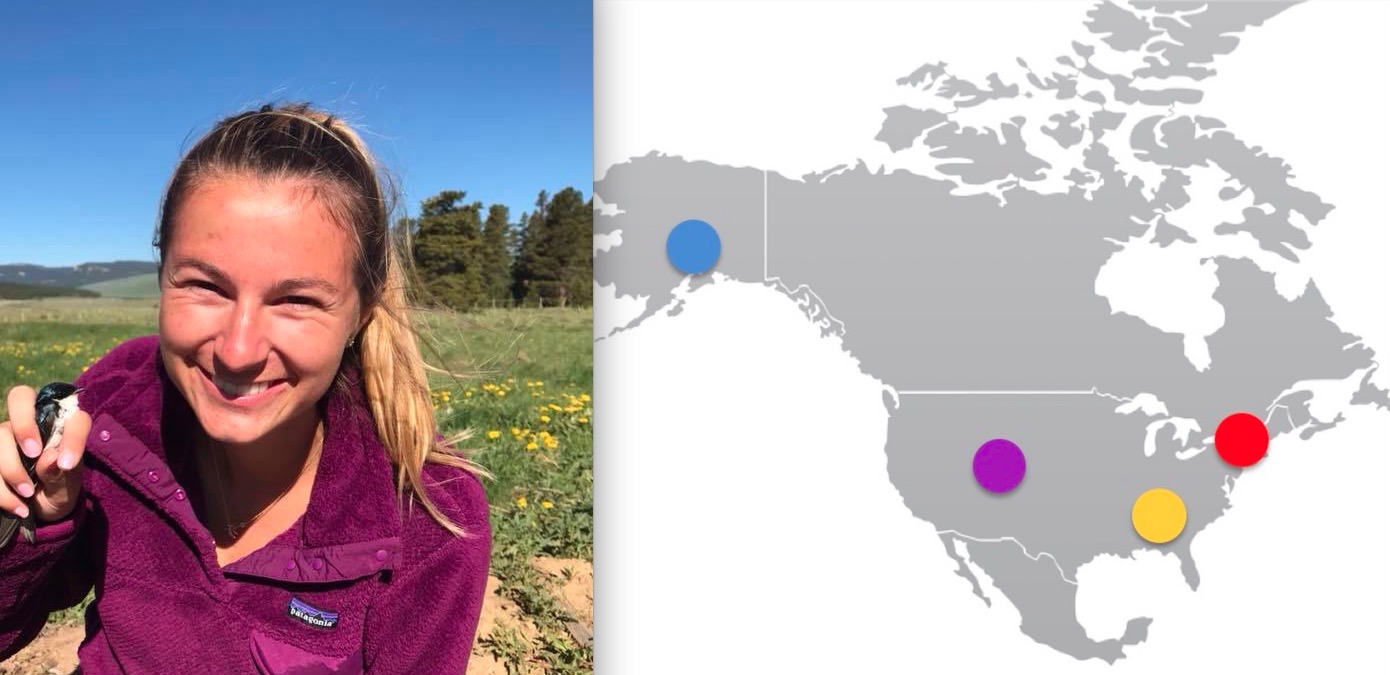 Alyssa Rodriguez was a long time contributor to the tree swallow project, working first in Ithaca, then in Alaska with postdoc Cedric Zimmer, and then returning to Ithaca as a field crew leader. Alyssa developed a project using feathers that she helped collect to explore differences in the relationships between color and physiology between populations of tree swallows breeding in Ithaca and Alaska (we still need to add Tennessee & Wyoming!). She presented her project both at Cornell and at the Society for Integrative and Comparative Biology conference. Some of Alyssa's work featured in a recent paper we published in the journal Ornithology. Alyssa is currently working at the Oklahoma Aquarium as the Education Specialist. There, she writes curricula for informal education programs, leads field trips for K-12 students, leads animal encounters and tours for the public, and creates content for web and social media platforms.
---
Student Driven Research
My research program is specifically designed to engage students and create opportunities for genuine independent research at the undergraduate level. Throughout my PhD and postdoctoral career, students have been involved in every aspect of my research, including collecting samples in the field, running physiological assays in the lab, cleaning and analyzing data, and drafting papers for publication. I am particularly proud that I have supervised and mentored over 90 undergraduate students. Because my research program is highly integrative, there are many opportunities for students to pursue projects related to their own interests and I encourage students to develop independent research questions. To date, I have co-authored papers with 29 undergraduate and 33 graduate students; for many of these students I acted as a primary mentor throughout the research experience and at least 10 undergraduates that I worked with have gone on to graduate degrees in ecology, evolution, or closely related fields.
I am lucky to have had the opportunity to work with many amazing students over the years. None of the research on this site would have been possible without their hard work and deadication. Thank you!